Helping the "Big Guy"
I put my Big Guy on Immuzim 2 weeks ago and have seen a huge jump ahead with the healing of the scratches. When I read about it I found something else I liked, in that it helps repair tissue after surgery. It had certainly helped with Big Guy's healing. All of a sudden the last of the uglies went away. I just have clean, pink skin now. Also using Soothex, it has a lot of good stuff in it including sulphur flower. I put that on before I wrap. Thank you Cheryl!!!!!
Lynn, Virginia
---
Lone Star Equine Rescue
I work with a large state-wide horse rescue, Lone Star Equine Rescue, here is Texas as well as managing a founder rehabilitation center. In our stables, we get many, many horses that have been nutritionally deprived and.or have metabolic health issues. For the past 5 years, I have been using various supplements to correct these imbalances. Of the many great products that your company has to offer, the two that I use the most are Evitex for the mares that have strong heat cycles and other metabolic issues and have found a huge difference in their calmness and overall attitude and the Immuzim supplement. I have used Echinacea products before to help with the immune system, but your formula shows me the most dramatic results. The latest equine to come into the rehabilitation center is a 17 yr. old Andalusian. The only history we have is that she had a major uterine infection and the vet administered massive dosages of antibiotics which I believe was a contributing factor in her kidneys shutting down at which time the vet kept her alive with hydration until they were able to function again and then she severely foundered on all four feet. By the time she arrived at our facility, she was in terrible shape. It has been the worst case of founder we have encountered. The toxins in her body were so bad and her immune system so weak, even the fly bites would get infected. Her body could not fight the smallest attack of anything. Immuzim, I believe, has saved her life. Sincerely, Leslie Davis, Kingsland, TX
---
Roo, a 20 year old Russian Warm Blood

Roo, a 20-year-old, ex dressage horse came to my barn a little over a year ago, underweight, behind on immunizations and worming, his feet and teeth were are mess. Soon we had him up to date on everything, looking much better. But there was still something missing. He was struggling, having a horrible reaction to tick bites which would swell between 3-4 inches in diameter looking like puncture wounds. They would ooze and bleed for up to a week. At the vets advice, all sites were hosed with cold water twice daily and treated with a topical ointment. It took two weeks for the bites to dry up at which point new bites would appear. As his recovery time kept getting longer and longer, Roo became irritated by the now daily debriding of his wounds and cold hosing. His weight was okay and while he was generally happy and alert, he didn't look like he was thriving. At this time he scratched up one of his hind legs and an eye lid.
For any other horse these two mild injuries would have healed quickly. But with the tick bites, the minor scratch in his hind leg became an infection that he just couldn't beat, his eye remained swollen shut. The vet was so helpful but at the end of Roos oral antibiotic dosing, there was still some lingering edema. He was getting better, but just. Then a boarder suggested your product Immuzim. Within 48 hours of being on Immuzim, not only had the lingering swelling on his hind leg injury disappeared but his normal morning stocking up was much less. Most noticeably he had zero swelling from any bites (ticks or otherwise) and his overall health was much improved. The elusive "something" that was missing became clear. You could actually see this horse felt better. He had more "umph" in his stride, more active during turnout, and the already personable gelding was even more so. We joke that Immuzim has taken years off his age, and instead of being the barn push-over he was now that barn stallion. Our vet was impressed and wanted to see the bottle to read more about it. I had hoped to send a before and after picture to demonstrate just how dramatic the difference Immuzim has made. Fortunately, this boy continues to have no problems with ticks and truly acts like a younger, healthier horse, so I only have this "after" shot. I wish I had found your product sooner. Not only would it have saved on time consuming care, antibiotics and bills but more importantly it would have saved this horse a whole lot of discomfort. Truly I cannot thank you enough!
Kirsten P., Brentwood, NH
---
Atlas and Abbie
We recently moved our family, including four horses across three states. In anticipation of moving day I was worried particularly for two of our horses; one of them is 24, Atlas, and the other is an 18 yr. old grey mare with melanoma, Abbie. I was concerned that the stress of the move would compromise their immune systems. My vet suggested Echinacea. Being familiar with your products I remembered Immuzim. Two weeks before our scheduled moving date, I began the recommended dose for each horse. I felt good about doing what I thought would fortify them for the move. Wasn't I gratefully surprised to discover an added benefit… a week before the move, Abbie's melanomas seemed to be enlarging and were sensitive to touch. Yikes! Two days after the move the largest internal one ruptured and began to drain. It drained for two more weeks. I chose not to wean Abbie off the Immuzim. Immuzim will be a staple in her diet to fortify her immune system under non-stressful circumstances with the hope that all her melanomas will diminish in size! Thank you again, sincerely, Lisa Bryan, Windridge Farm, Jeffersonville, Vermont PS: I use Soothex and Tea Tree Antiseptic Spray as a topical on her melanomas.
---
Bramblewood Taib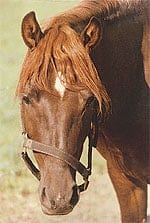 October 4, 2002
Dear Emerald Valley,
First let me introduce myself, my name is Suzanne Kiewiet. My family runs a small riding stable which we own 16 horses of our own, young and old included. We've owned one of our horses for over 25 years, Taib, a 27 yr. young part Arabian. He has taught many young children to ride during his life and is looking forward to teaching many more. For most of his life his summers have been very trying for him. He has an allergy to the bugs and also been diagnosed with COPD.
This summer we discovered a wonderful product, Immuzim!! I can't tell you the major difference this product has made in my horses lives. The flies and bugs were just not an issue this year. There were no steroids or strong insecticides. And I have to tell you that he has never looked better and there is no coughing on the trail at all! He has much more energy and always ready to go for a ride. Thank you from my dear old friend and from myself. Now I know I can't keep him around forever, but his quality of life has definitely taken a large turn towards the better. I just can't thank you enough.
I must also tell you I work from Dr. Applegate and Equine Health Service in Kalamazoo, Michigan. This spring one of our clients told us about your product, Evitex. She started using it for her old horse that has Cushings and was so pleased with the results she was seeing. We at the clinic have been using it for many of our clients as you surely know. Daily I talk with our clients that use your products and all of them just love them as I do. Dr. Lynn has seen your products work their magic and is so pleased with all the super feedback we get at the clinic about the great changes in the horses. I just wanted you to know that we really do appreciate you and the products you provide.
From myself and all the horses in the Southwestern Michigan area that use and love your products, THANK YOU again from the bottom of my heart. Sincerely yours, Suzanne Kiewiet and Bramblewood Taib, Bangor, Michigan
---
Kay Frydenborg's Homebred TB cross
I just wanted to let you know how grateful I am that you suggested I try Immuzim for my 5-year-old homebred TB/App cross gelding. This horse has suffered from quite a few health setbacks in his life, despite being a big, robust colt for the most part. The most serious illness occurred when he was just a yearling, when he contracted some sort of infection that caused sudden and severe neurological symptoms which, fortunately, resolved in time with only very minimal lasting effects – a slight head tilt is the only reminder of the fact that we nearly lost him that summer. We believe the infection was caused by the neurological form of the equine herpes virus, although we were unable to confirm the diagnosis with standard lab testing, and were never able to explain how he might have contracted the disease. In addition, this horse has suffered from skin problems ranging from frequent hives and severe responses to insect bites, to the formation of granulomas under the skin in response to irritants of some sort – probably also insect bites, according to my vet. Around the time he turned 4, the horse came down with an upper respiratory infection with fever, nasal discharge and a cough which dragged on and kept him out of work for an entire summer. The following spring he caught another cold, and by then had begun showing signs of chronic respiratory allergies and possible early obstructive airway disease. Sometimes he was so distracted by his cough and nasal irritation that it was difficult for him to concentrate on his work, so training proceeded slowly. We tried all the usual management and veterinary remedies -restricting and soaking his hay, increasing his turn-out time, antihistamines, decongestants and inhaled albuterol and steroids – but still his work-induced cough persisted on a fairly regular basis. Hot, humid weather made it worse, as is usually the case with respiratory problems that so many horses have. I had been using BTB Plus (formerly NoBute) from Emerald Valley for several years for another horse who is older and has some navicular changes. BTB Plus has helped to keep this horse sound and still competing as a show hunter at age 16, ten years after his navicular diagnosis, so I'm a firm believer in your products. When you suggested that I give Immuzim to my young gelding, I thought it was certainly worth a try, especially since your products have such a good safety record. If it helped even a little with the chronic cough and nasal irritation that still plagued my horse, I thought it would be well worth the price. I was amazed, however, at the response this horse has had to Immuzim. Within two days of his first dose, he had virtually stopped coughing at all when I rode him, and now, months later, he's still not coughing. I have completely eliminated the use of the inhaler, and this past summer when he caught his usual summer cold, it was very mild and left no lingering effects, unlike the previous times he'd been ill. Although he is still pretty sensitive to insect bites and other skin irritants, I'm hopeful that the Immuzim will improve this area, as well. Even if it doesn't, the product has been a godsend for this horse, and has allowed us to actually make some progress with his training, finally. He's doing great now. Thanks so much. My horses are proof-positive that the right herbal product can truly make a difference in an animal's health and well-being. Sincerely, Kay Frydenborg, Stewartstown, Pennsylvania
---
Jennifer Higdon's 30 year old mare
Emerald Valley, I spoke with you a few weeks ago regarding your product, Immuzim. It is wonderful! As I explained, I have a 30 yr. old, 3/4 Arab mare that has been "itchy" for the past three summers. Nothing else I tried helped. My vet, Dr. Lynn Applegate introduced me to Immuzim in the Spring of 2002. My mare had her most comfortable summer in years. I never would have tried it or believed in it if it wasn't for the Dr. (and Sue at her office)!! I'm enclosing a picture of "my old gal" during her best summer yet!
Thanks again, Jennifer Higdon, Lawrence, Michigan